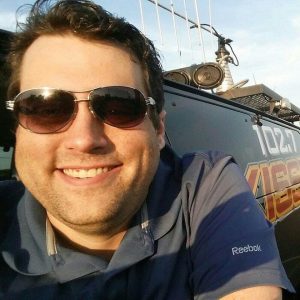 TIC TAK 102.7 KISS FM
Hey there, I'm TicTak.. host of the afternoon show here on 102.7 KISSFM and HOT100 in Corinth MS. I've been here since the start of 102.7 back in 2010… prior to that I was on WILD100.7 Corinth, MS. I'm not originally from here (thank you for pointing out my "northern accent"). I moved down south in 2002.. and I absolutely love it down here. I live in Muscle Shoals, Alabama and prior to that I lived in Corinth MS.
Read More…
I got my start in broadcasting waaay back when I was 15 years old.. when I got my first job at ESPN with the NASCAR production crew. Ya see, I had to be 18… so for the first three years I lied about my age to keep the job. And what a fun job it was… initially I started out as what's called a "utility" worker. This means you do anything and everything nobody else wanted to do… including setting up cameras and hauling around equipment in the hot, hot sun. Eventually I moved up in the ranks to become a cameraman on pit-row.. and finally found my way into the production truck first handling the instant replay machine, then moved up to Chyron operator where I had to constantly update driver and race stats on graphics for the director to put on the screen LIVE over the video you're watching. Finally, I found myself in the spot of Technical Director in the live truck. That's the person who pushes all the buttons (when told by the director usually) to select between the different cameras, graphics, etc. It was a high intensity job from the start of the broadcast all the way thru the end of the race.
Radio is much easier… and more fun (to me). I love waking up early to be a part of your morning as you get ready for work and drive to the job or taking the kids to school. We love to have fun on the radio and at times be serious too… whatever the mood calls for. What I love most about being on the radio is that I can connect with thousands of people at once… while at the same time it feels like it's just you and me talking.
Find me on Facebook @KissFMTicTak, send me a message and say hey!
---