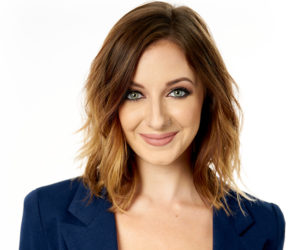 Davi Crimmins
Davi Crimmins is an Atlanta based comedian, actress, and voted Best Radio Personality 2019 at the A-Scene Awards. You can hear her quick wit every morning as Co-host of the syndicated morning radio talk show, The Bert Show or co-hosting her podcast, Broadly Speaking.
Davi was born in Pensacola, Florida but quickly left the sandy beaches when her parents bought a farm in West Virginia. She grew up tending to horses, chickens, buffalo, rabbits, ducks, geese, and even two monkeys. When Davi was 16 years old, she moved to Atlanta to pursue her dreams in the big city. Throughout high school and college she worked as an actor, an entertainer/showgirl with the Dames Aflame, and became a studio intern for 99X. She began hosting burlesque shows, writing comedic short stories & scripts, and during this time she gained her confidence for the stand up stage.
Her radio internship turned into a position with Cumulus Media as a script writer, voiceover artist, audio editor, and assistant producer, while also hosting an on-air show on 99X. This long road of eclectic tastes and unique talents led her to a promotion full time as Co-Host of The Bert Show. It is on this show that she learned the strength and beauty that grows from vulnerability. It's easy to be funny. It takes a special kind of talent to be REAL. Davi's most recent projects include lending her writing and directing skills to various short films and music videos. Appearing in Dead By Midnight (11pm Central), Dead By Midnight Y2Kill, and Dangerous Calling.
When she's not on stage, on camera, or on-air, Davi spends her time at her home in Atlanta with her musician husband, Blair Crimmins of the bands Blair Crimmins & The Hookers (&) Captain Crimmins & The Story Boat Band. They have two dogs named Banjo & Don Rickles and a Chameleon named Aladdin Sane. Her hobbies include filmmaking, traveling, roller-skating, & yoga!
Follow her on all social; @DaviCrimmins for entertainment and to stay up-to-date on upcoming live appearances! But you can always hear her cutting up at work, every weekday 6am-10am on The Bert Show, or anytime/anywhere The Bert Show streams. Turn on your radio – she'll make you giggle!