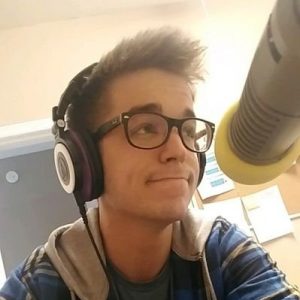 Brent Reed
Hello friend! I'm Brent Reed, the voice inside your radio during afternoons on 102.7 KISSFM in Florence, Alabama as well as HOT100 in Corinth, Mississippi. I was born and raised just outside of Decatur. Since I was a young boy (and yes, I realize I still look like one), I've always been loud and energetic with a love for music and making people laugh. In 2010, I discovered a place to focus that energy when I moved to Florence to attend the University of North Alabama in the Communications department.
Read More…
I drunkenly stumbled my way through college to eventually become an unpaid intern here are KISSFM, where I have quickly climbed my way up to become the youngest daytime radio personality and producer in the market. My voice can now be heard on radio commercials throughout the country – and a couple in Canada!
As the resident nerd here at the radio station, I geek out HARD about all things stand-up comedy, music, TV, and movies. And don't even get me started on superheroes. Some of my idols include Jim Carrey, Bobby Bones, and John Mulaney. What I love most about radio is being able to go out into the community, interact directly with you, our listeners, and host cool, sometimes weird and obscure, events.
Follow me on Twitter and Instagram @RadioBrentReed. Slide into my DM's. Or not. Not is good, too.
---