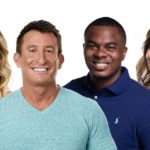 A few months ago, her friend introduced her to a guy she had a MAJOR crush on. The two exchanged numbers and have talked EVERY DAY since.
Here's the problem: he lives eight hours away and doesn't seem interested in meeting her in person. Anytime she mentions him visiting, he says, "I will be there when I'm there, but I'm not sure exactly when I can visit."
Her friend suggested that she take a road trip to see him without warning. Should she do this? Or is this a bad idea?