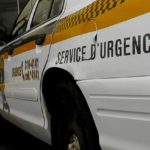 A Man Stole a Police Car While He Was Being Arrested for Stealing a Police Car
A guy in Quebec, Canada stole a police car on Monday afternoon. And when the police caught him after a chase . . . he stole ANOTHER police car to get away. They caught him again after that, and this time they arrested him without him stealing another car.
The guy in his 30s stole a police car in Levis, Quebec, Canada on Monday afternoon when the cops were responding to a report.
Other cops spotted the police car on a highway and got into a chase . . . which ended when the guy crashed into a concrete barrier.
The cops swarmed him and tried to arrest him, but he got away . . . and stole THEIR police car.
So that led to ANOTHER chase. And this time when they caught the guy, they arrested him and he didn't manage to steal a third police car.