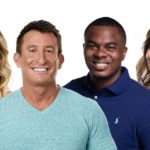 The Bert Show – 11/18/2020
You meet a guy on Tinder, and you two hit it off. After a few days later, he asks for your Snapchat account. You find out his full name so of course, you research him online.
During your research, you find out that he's ENGAGED! So what do you do now? Do you reach out to his fiancée? Or do you move on with your life?
Our listener is in this current situation, and she needs some advice.