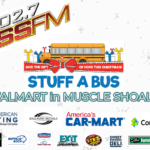 102.7 KISS FM Stuff A Bus returns for year #9 at the Walmart in Muscle Shoals!
Each Year our radio station personalities volunteer their time and heart to live on a school bus round the clock, collection toys from our listeners and community. The goal is to completely stuff the bus so full that there's no more room for the DJ's to live on the bus.
The donated toys are brought to less fortunate area children in Lauderdale, Colbert and Franklin counties in Alabama. The goal is for every child to have a Christmas morning to remember.
This year, MoJo Wilson lives on the bus round the clock, collecting new, unwrapped gifts to be distributed to the parents and children who are struggling this year. With everything our community and country has gone thru in 2020, the need for donations is greater than ever.
MoJo will board the bus and broadcast LIVE every hour later this November. We are excited to be at our new location at Walmart in Muscle Shoals on Avalon Ave. This location is easier to get in and out, and more centrally located for our listeners.
Come out and make a donation of a new, unwrapped gift to the bus for a child of any age.. from age 1 to 16. Remember, older kids are still dependent on their families (and deserve a Christmas too).
We understand that many have concerns about Covid-19, so we will do our best at social distancing. By request, we have also established a donation tab on this page allowing you to make a personal or corporate donation by debit or credit card. Those cash donations will be used to help fill the bus (we'll do the shopping for you!!