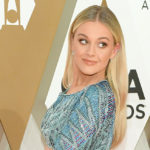 Kelsea Ballerini Fired Back at Someone on Twitter Who Asked If She was Pregnant
KELSEA BALLERINI clapped back at someone on Twitter who saw her CMA performance, and then asked if she was pregnant. She reminded them that it's "incredibly insensitive" to ask such a question. Then she added, "I'm not, by the way. Just carrying around my organs." LOL!
Here is the video where she supposingly looks pregnant …
Kelsea followed up with ... "If I were, I'd want to share that in my own time when I felt ready. Let's not judge bloat levels on the Internet."
How would you handled this situation?