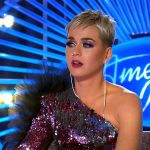 It's only been a little over a month since Valentine's Day and it seems like Katy Perry has already forgot about it. Sunday Katy tweeted about watching american idol with her boyfriend, which sounds like a very normal thing to talk about, but should know that shes past the boyfriend phase now, because Katy Perry got engaged to everyone's favorite elf Orlando Bloom on Valentine's Day.
---
My favorite part of watching #americanidol with my boyfriend is that he always tries to ask if they got in or not before we give the final vote. I never tell him hahahahahahahahahahaha

— KATY PERRY (@katyperry) March 18, 2019
What's probably just a habit by this point has turned into an embarrassing accident that has caused a twitter storm of memes and jokes by the couple's fans.
Forgot about it pic.twitter.com/Z0TvHDrFIp

— Emy (@emibonafede20) March 18, 2019
does your fiancé know you have a boyfriend? pic.twitter.com/GeUxStqTx3

— Anthony | Lady Gaga News (@antpats2) March 18, 2019
Run girl pic.twitter.com/3DM3Mt0gAm

— enriqué (@ratxhetz) March 18, 2019
Sis really just called him her boyfriend guess the engagement off already pic.twitter.com/H7dfhQcgVa

— ryan (@katyswetdream) March 18, 2019