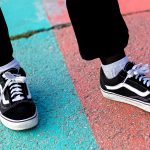 Our science department here at Kiss FM has been testing out the latest viral sensation, the "Vans Challenge". Which started on twitter after the user @Ibelievthehype shared a video of his shoes being tossed through the air and landing upright, captioned: "Did you know it doesn't matter how you throw your vans they will land facing up". And that's all it took, the #VansChallenge was born!
---
We attempted the challenge live on the Nuts in the Morning show.
---
@Ibelievthehype original post and other contributions.
Did you know it doesn't matter how you throw your vans they will land facing up pic.twitter.com/nKVJCncW4H

— lana m!sses tøp (@Ibelievthehype) March 2, 2019
I had to explain to my mom why I was throwing all my Van's on the floor at 12AM. #Vanschallenge pic.twitter.com/USwUJkpyPX

— Kris (@Sw0rnT0Death) March 4, 2019
I had to. #VansChallenge pic.twitter.com/yvs8mIBrnS

— Blain (@Blainisamazing) March 5, 2019
#VansChallenge I'm convinced. pic.twitter.com/Yut6bAJrSM

— Jbo Lean (@JScarb11) March 5, 2019