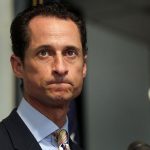 After 15 months in prison, Anthony Weiner has been released 3 months earlier then expected due to good behavior. Originally sentenced to 21 months for sexting a minor, the former Democratic Congressman is out of jail and in a halfway house until May 14th. Which has also given him the opportunity to have a cell phone again, but not without some restrictions and monitoring from the government.
Since Anthony Weiner is now back in the spotlight, conversations and memes are popping everywhere on social media about the serial sexter "Carlos Danger", along with Pee Wee Herman, who called in to the Nuts in the Morning show to put in his two cents.
Listen to "Pee Wee Herman – Weiner Out of Prison" on Spreaker.
---
More clips can be found at spreaker.com
---
Anthony Weiner has just left prison #FreeWeiner pic.twitter.com/wE8ERcQQ8r

— Jim (@jgaynor0730) February 17, 2019
#SundayMorning #WEINERWARNING
Anthony Weiner is getting out!! pic.twitter.com/IvYaEFIPSP

— Karen (@dropfootfrog) February 17, 2019