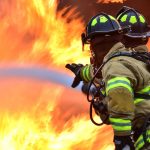 Fire! Is the last thing you want to hear when bundled up with a blanket on the couch while binge watching an episode of Game of Thrones, but if an unexpected fire were to happen while you were at home, would you survive? Which is what we asked Jamie B on the Nuts in the Morning show because one of her greatest fears is being in an apartment fire, so naturally we had to tease her about it.
Since Jamie is on the top floor of her building, with only one exit, it makes since that she would be afraid of an apartment fire. So we joke about how she and her dog Twister would manage to escape her fear of fire in the audio segment below.
Listen to "Jamie's Fear of Apartment Fires" on Spreaker.
---
More clips can be found at spreaker.com