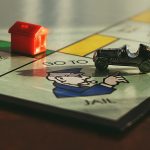 February is here, which means Valentine's Day could be a lonely one if you are single, but why live a life without romance when there are so many individuals out there that are stuck in a similar rut. If you are having a challenge finding your sole mate, that's probably because they're already serving hard time for their crimes. Prison Pen Pals is a site to die for when it comes to finding that adventurous relationship that you have been missing in your life. It can be quiet liberating know all the skeletons are out of the closet because you can see your future spouse's wrap sheet, with a conviction of robbery, assault, murder or all of the above. Plus, for those that don't want to have a clingy companion, then date a lifer who will give you space till death do you part.


---
Our Letter
Hi Kurtis…
My name is Katie and I saw your ad on prison pen pals and thought you were cute! I'm a few years younger than you.. I just turned 30 and celebrated my birthday with my friends… you have pretty eyes. I'm looking to start a new chapter in my life once my marriage is over. I live a lustless marriage… its boring and I seek new adventures. My husband of 10 years cheated on me multiple times… and I can't deal with that.. so now we are "separated" but still living together. I'm not going to divorce him yet until I can hide some recent inheritance that he doesn't know about..
---
Make you own letter, and we could use it
when we revisit this topic in the future.
---